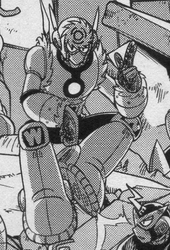 My reactions:
High scores
Records.
Mega Man Powered Up
New-Style
Stage
Easy
Normal
Hard
Time
Score
Time
Score
Time
Score
Towntown Stage
00'57"91
15113
00'56"68
15609
00'56"66
15609
Cutman Stage
02'15"48
37875
02'47"43
59384
02'46"83
33288
Gutsman Stage
02'17"40
37873
02'44"00
35075
03'52"90
25854
Iceman Stage
02'06"41
32640
02'17"65
30256
03'57"01
19747
Bombman Stage
02'12"53
42336
02'26"73
36480
04'27"23
22842
Fireman Stage
01'53"88
37026
02'23"00
34272
02'55"35
34845
Elecman Stage
02'19"13
36322
02'56"43
30392
04'15"56
24780
Timeman Stage
02'58"34
29920
02'42"59
31320
04'52"56
22776
Oilman Stage
02'27"93
42575
03'02"08
37961
02'19"68
42294
Wily's Castle 1
02'00"56
113920
04'36"53
76032
07'11"03
38076
Wily's Castle 2
01'48"93
141638
02'29"41
126720
02'30"35
125280
Wily's Castle 3
04'44"58
223045
10'28"17
58999
08'54"54
116712
Wily's Castle 4
01'32"35
130875
05'02"56
124500
05'54"95
85890
Old-Style
Stage
Easy
Normal
Hard
Time
Score
Cutman Stage
02'39"51
45903
Gutsman Stage
01'18"90
44649
Iceman Stage
01'46"66
47244
Bombman Stage
01'40"50
29593
Fireman Stage
02'21"25
29832
Elecman Stage
02'05"21
38350
Wily's Castle 1
05'40"40
103247
Wily's Castle 2
02'32"40
198057
Wily's Castle 3
01'34"91
163712
Wily's Castle 4
04'06"18
320056
Challenge
One can only view the high score from challenges by viewing the Results after completing it again... So don't except me to add them anytime soon.
Character
1
2
3
4
5
6
7
8
9
10
Mega Man
Cutman
Gutsman
Iceman
Bombman
Fireman
Elecman
Timeman
?
?
?
?
?
?
?
?
00'34"20 (normal)
00'03"65 (glitch)
?
Oilman
Bosses
Cleared games
A list of games I completed, as of 23:45, March 28, 2018 (UTC). Most are good games, but be warned that a few are AWFUL (good thing the SMS version was slightly better than the NES one...). Of course, mini-games or games without end, like "California Games", "Pac-Man", and "Dig Dug" (I don't care for the "death screen"), are not included. Any % and multiple continues, otherwise stated.
Also, "arcade" and other version specific notes don't necessarily mean I played the games on the actual system (for arcade, that would be way to many coins considering how many continues I used...), but that they are a port identical (or close enough) to that version (examples: Capcom Classics Collection: Reloaded, Capcom Classics Mini Mix, Kirby's Dream Collection, and Sega Mega Drive & Genesis Classics), as some ports may have differences that range from a few details to a completely different game (like the NES and SMS versions of Strider and Makaimura).
A-E
Adventure Quiz: Capcom World 2 (countless continues)
Air Rescue (SMS version)
Alex Kidd in High Tech World
Alex Kidd in Shinobi World
Alex Kidd: The Lost Stars
Alone in the Dark
Alone in the Dark 3
Altered Beast (arcade, multiple continues)
Apocalypse
Asterix & Obelix XXL
Ax Battler: A Legend of Golden Axe
Back to the Future II (SMS version)
Baku Baku Animal
Battle Clash
Battle Stadium D.O.N.
Bionic Commando (arcade, continued)
Broken Sword: The Shadow of the Templars
Broken Sword II: The Smoking Mirror
Castlevania: Aria of Sorrow
Castlevania: Circle of the Moon
Castlevania: Dawn of Sorrow
Castlevania: Harmony of Dissonance
Castlevania Legends
Castlevania: Mirror of Fate
Castlevania: Portrait of Ruin
Castlevania: Rondo of Blood
Castlevania: Symphony of the Night (200.6% of "a miserable pile of secrets")
Cave Story (bad and normal endings, yet to get best ending)
Chip 'n Dale Rescue Rangers
Chuck Rock (SMS version)
Crash Bandicoot 2: Cortex Strikes Back (100%)
Crash Bandicoot: Warped (105%)
Cyberia 2 - Resurrection
Disney Guilty Party
Donkey Kong Country 3
Downhill Domination
Dragon Ball Z: Budokai Tenkaichi 2
Dragon Ball Z: Goku Gekitōden (Fake ending, where Freeza is "killed" by Genki Dama)
Driver 2
DuckTales (NES version)
DuckTales 2 (NES version)
Duke Nukem 3D (some of the chapters)
Dynasty Warriors 5 (some characters)
Ecco Jr.
Exed Exes (continued multiple times)
F-L
Fighting Force
Final Fantasy (GBA)
Final Fantasy VIII
Final Fantasy Brave Exvius (First Season)
Final Fight (arcade, continued)
Final Fight: Streetwise
Klonoa 2: Lunatea's Veil
Klonoa: Empire of Dreams
Last Duel (arcade, continued)
The Legend of Zelda ("It's a secret to everybody")
The Legend of Zelda: A Link to the Past
The Legend of Zelda: The Minish Cap
The Legend of Zelda: Ocarina of Time (Hey! Listen!)
The Legend of Zelda: Twilight Princess
Lemmings
The Lord of the Rings: The Fellowship of the Ring (2002 PC game)
Luigi's Mansion 2: Dark Moon
M
Magic Sword (arcade, continued)
Marvel: Rise of the Imperfects (PS2)
MDK 2 (PC)
MediEvil 2 (bad ending)
Mega Twins (arcade, continued)
Metal Gear (MSX version from MGS3)
Metal Gear 2 (MSX version from MGS3)
Metal Gear Solid ("You like Castlevania, don't you?")
Metal Gear Solid 2
Metal Gear Solid 3
Metal Gear Solid: Peace Walker (S Rank in all Main OPS and above half of Extra OPS)
Metroid: Samus Returns
Mickey & Donald - Magical Adventure 3
Mighty Final Fight (GBA version)
Ms. Pac-Man: Maze Madness
Moonwalker (SMS)
Mortal Kombat (SMS)
Mortal Kombat II (SMS)
Mortal Kombat III (multiple continues)
N-R
Naruto Ninja Concil 2
Naruto: Ultimate Ninja 3
Naruto Shippuden: Ultimate Ninja 4
Naruto Shippuden: Ultimate Ninja 5
One Must Fall: 2097 ("arcade mode" and two tournaments)
Rockman & Forte: Mirai Kara no Chousensha
S
Sonic the Hedgehog (original version)
Sonic the Hedgehog (SMS version) (All Emeralds)
Sonic the Hedgehog (Tiger Electronics)
Sonic the Hedgehog 2 (original version)
Sonic the Hedgehog 2 (SMS version)
Sonic the Hedgehog 3 (All Emeralds)
Sonic the Hedgehog 4 Episode 1 (Try Again)
Sonic 3D Blast
Sonic Adventure 2 Battle (110+/180)
Sonic Battle
Sonic Blast
Sonic Chaos
Sonic CD (all Time Stones)
Sonic Colors
Sonic Generations (PC)
Sonic Heroes (all 4 teams, but not the finale due to Emeralds)
Sonic Mania
Sonic R
Sonic Rivals 2
Sonic Rush Adventure
Sonic the Fighters
Sonic Triple Trouble (Half of the Emeralds)
Sonic Unleashed (PS2 version)
Super Mario World
Super Metroid
Super Paper Mario
T-Z
Community content is available under
CC-BY-SA
unless otherwise noted.